Elevation:
3022 ft / 921 m
Temperature:
30ºF / -1ºC
Conditions:
Compact snow and ice on the roadway
Weather:
Occasional snow showers
Restrictions Eastbound
Traction Tires Advised, Oversize Vehicles Prohibited.
Restrictions Westbound
Traction Tires Required, Chains required on Vehicles over 10,000 gross vehicle weight. Oversize Vehicles Prohibited.
Updated: 2:26 PM, Feb 25, 2018
This is the most current info available and is promptly updated when conditions change.
Snoqualmie Summit on I-90 @ MP52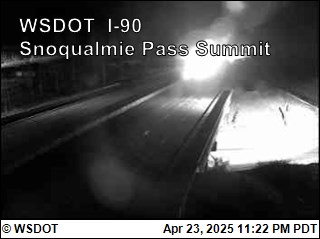 Franklin Falls on I-90 @ MP51.3
East Snoqualmie Summit on I-90 @ MP53
All Snoqualmie Cameras