Elevation:
3022 ft / 921 m
Temperature:
31ºF / 0ºC
Conditions:
Roadway is mostly bare and wet. Minor delays during the day from 8 a.m. to 4:30 p.m. due to a single lane closure WB Thursday and Friday. No loads over 13' wide from 7:30 a.m. to 5 p.m. Nighttime full closures scheduled: On Thursday and Friday nights, WB traffic will be stopped at MP 62, from 10 p.m. to 5 a.m. the next morning and EB will be stopped at MP 56 from 11 p.m. to 6 a.m.the next morning. Crews will reopen the lanes every two hours to clear out traffic.
Weather:
Overcast skies
Restrictions Eastbound
No restrictions
Restrictions Westbound
No restrictions
Updated: 11:37 AM, Feb 23, 2017
This is the most current info available and is promptly updated when conditions change.
Snoqualmie Summit on I-90 @ MP52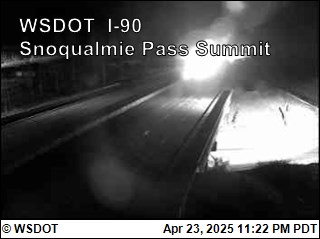 Franklin Falls on I-90 @ MP51.3
East Snoqualmie Summit on I-90 @ MP53
All Snoqualmie Cameras