Elevation:
4500 ft / 1372 m
Temperature:
34ºF / 1ºC
Conditions:
Roadway is bare and wet. A traffic light is directing traffic through a single lane near the repaired areas both east and west of the pass. Drivers can expect delays at the signals. Repair work is in winter shutdown and will resume around the first part of April.
Weather:
Overcast skies
Restrictions Eastbound
No restrictions
Restrictions Westbound
No restrictions
Updated: 8:30 PM, Feb 12, 2016
This is the most current info available and is promptly updated when conditions change.
White Pass Summit on US12 @ MP 150.9 - East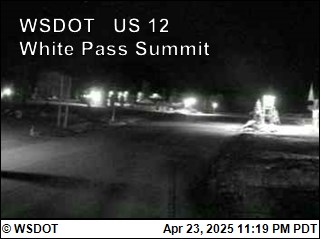 White Pass Summit on US12 @ MP 150.9 - West
None