Elevation:
3022 ft / 921 m
Temperature:
46ºF / 8ºC
Conditions:
Due to the Memorial Day weekend, we won't be working and impacting traffic Friday through Monday. However, due to the increase in traffic volumes we will see a spike in traffic volumes eastbound on Friday and westbound on Monday. Please plan for added travel time.
Weather:
Restrictions Eastbound
No restrictions
Restrictions Westbound
No restrictions
Updated: 7:13 PM, May 26, 2019
This is the most current info available and is promptly updated when conditions change.
I-90 at MP 52: Snoqualmie Summit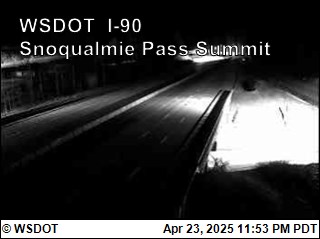 I-90 at MP 51.3: Franklin Falls
I-90 at MP 53.4: East Snoqualmie Summit
All Snoqualmie Cameras