Elevation:
3022 ft / 921 m
Temperature:
54ºF / 13ºC
Conditions:
Pass is open. I-90 westbound from milepost 85 near Cle Elum to milepost 56 just east of the Snoqualmie pass summit: Heavy weekend traffic is causing backups and delays, of up to 30 minutes of added travel time. An estimated time for the backups to clear out is not known at this time.
Weather:
Restrictions Eastbound
No restrictions
Restrictions Westbound
No restrictions
Updated: 3:42 PM, Sep 22, 2019
This is the most current info available and is promptly updated when conditions change.
I-90 at MP 52: Snoqualmie Summit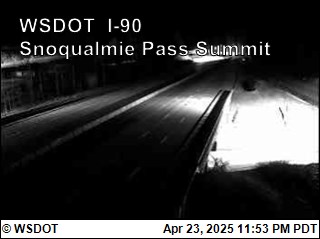 I-90 at MP 51.3: Franklin Falls
I-90 at MP 53.4: East Snoqualmie Summit
All Snoqualmie Cameras